Stills + Motion By Blue Barn Creative
Great photography for your website, marketing materials and social channels will help you stand out. Our photo services range from product photography, lifestyle and portraits, to editorial and photo retouching. You can also benefit from shooting both stills and video assets during the same film shoot. We offer "hybrid" shoots so that the look and feel of your photo and video assets match. Plus, your budget goes further when utilizing the same models or on-screen talent, locations, and production crews for the entire shoot.
We produce professional photography for customers that want to add polish and creativity to their marketing campaigns. As storytellers, we produce video and stills that foster deeper connections and help communicate the journey of your brand. Below are some samples of our work with various clients.
A CINEMATIC APPROACH
We take a cinematic approach when shooting stills. Our lighting and cinematography technique makes for flattering images and our directing style helps you feel natural and relaxed. We don't weigh you down with the details of content creation, we handle the entire process.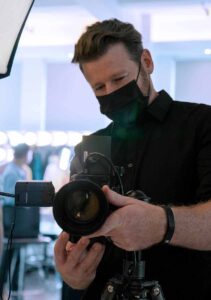 YOUR PHOTOS ARE ABOUT TO GET BETTER
From headshots, event photography, to lifestyle and e-commerce photos. We'll polish up your image.
CONTACT US TODAY